Quentin Johnson:

Doing the Work that Connects America.

Keeping utility workers safe on the job.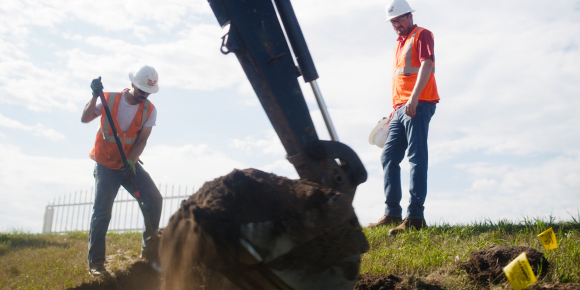 Safety runs deep
Quentin Johnson never really stops thinking about safety, even off the job. "I see people on those rental scooters flying around in and out of traffic, not wearing a helmet and it drives me crazy. Even around my family if I see someone doing something unsafe, I talk to them about doing it right, otherwise I wouldn't sleep at night if I didn't try and help."
Quentin has been seeing the world through a safety lens for the last seven years. Starting at a global organization which is a provider of safety and specialty services in over 500 locations worldwide, he was rotated through different locations including Minneapolis, Watford City, North Dakota and Kansas City. These early experiences were invaluable, and Quentin says, "That was where I met some of my best mentors. Mentors that I still have today who have been in the safety profession for a long time and really know the industry better than anyone else."
Today, he's still with the organization as the regional safety manager for one of their major utility companies. The trillion-dollar utility sector harnesses the power of natural resources for electricity, gas and water for the public—greatly impacting the lives of every single person. Quentin doesn't take the sheer magnitude of the utility industry lightly nor his role in navigating utility-specific safety concerns. He enjoys the days he gets to work at the job sites, with the crew, helping them with anything they may need. "We have pre-task meetings where we go through as a crew, all of the potential hazards of the jobs they're going to perform for that day. And then, identifying and mitigating any foreseen hazards."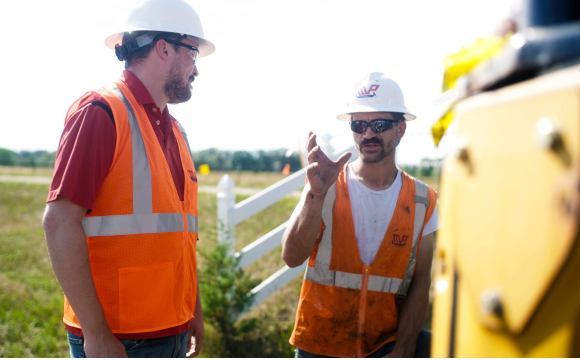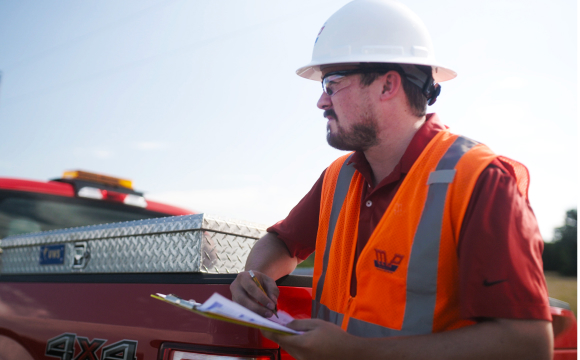 Contending with man-made and natural hazards
Working in the utilities industry presents unique safety challenges. Quentin points out, "We just have to exercise extreme caution when digging around utilities, particularly in the cities, but really anywhere. Because, if you don't precisely locate gas mains, electrical, or sewer lines, it can be tremendously hazardous to the crew on-site and even to the community around it. So, that's a massive piece of what we do. And I'd like to think we take pride in doing it well."
And if underground hazards aren't enough to watch for, the safety team also looks skyward for changing weather. Work happens year-round and staying ahead of bad weather is critical. "Summers we're dealing with pretty remarkable heat so we need to make sure the crew has portable shade, electrolyte packs, plenty of water and areas where they can cool down. We try to be prepared for it all … tornadoes in the Midwest, hurricanes in the south, and even some of the major snowstorms you see out towards Pennsylvania or Buffalo, we've always got to be ready."
"To see people be able to do what they want to do outside of work and still build and connect America in what we do every day. I mean, there's no better feeling."
Pumping the brakes vs. being the safety police
Quentin compares what the safety team does to brakes on a car. "If you ask most people what brakes are supposed to do, they might say, 'brakes make you stop' or 'they slow you down.' Where, a safety professional would ideally say, 'the brakes are there so you can drive as fast as you feel comfortable, while still maintaining the feeling that you're safe in what you're doing, and you can stop at any time.' That's what safety is to construction utility," says Quentin. "We're there so the crew can work at a speed they feel safe. We try our best to be a resource to them, never the safety police."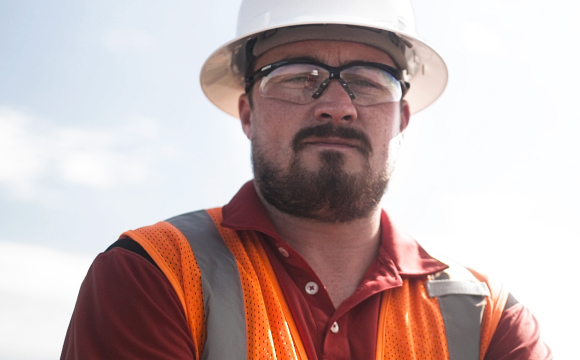 Quentin Johnson, Regional Safety Manager for MP Nexlevel, an APi Group company
Everything that matters in life ultimately relies on safety
"Seeing our incident rates go down is one of the best rewards of this job. And to see our people build and connect America and still be able to live their lives fully outside of work is what it's all about. I mean, there's no better feeling." Quentin believes that without safety, none of us can really do what brings us joy in life. "If we all do what we need to do safely at work, at home and everywhere, we will ultimately be able to live the lives that we want, never missing the important moments, whatever makes you happy. Without safety, you're risking all of that."
Learn what inspired her to devote 20+ years to the safety profession and ultimately start her own safety business.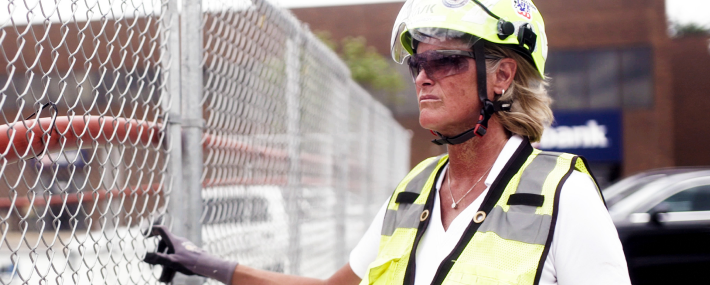 See why she has a passion for introducing the safety profession to young people.