Deb Hilmerson:

A Life's Work in Elevating Worker Safety.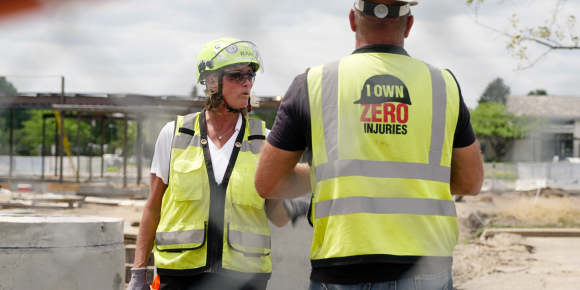 "No one should die just for doing their job."
One day, very early in her career, Deb Hilmerson was working as a union construction worker, laying precast concrete on a big job when one of her coworkers died from a worksite injury. "He was just doing his job," Deb says. "He was going to leave at the same time as me that day. But then he didn't go home."
That incident made an indelible impression on Deb, and it was one that would propel her life's work for the next 30 years, from working as a crew member, to growing as a safety professional, to becoming a safety innovator and president of her own company that designs and manufactures construction safety products. All because she believes every worker should go home safe at the end of the day.
Breaking ground and blazing a trail
Deb was never averse to hard work. As a teenager, she liked being busy in her dad's salvage yard, pulling car parts, driving loaders and crushing cars for scrap metal. After college, she looked for work opportunities where she could get paid well for her endless energy and ambition. As always, she didn't mind getting her hands dirty, and when the opportunity arose to work in the construction industry she was eager to learn the job alongside her peers and willing to confront common gender stereotypes she might encounter.
"At first it was challenging because there were very few women in construction," Deb recalls. "I had to prove myself and let them know that I didn't want to be relegated to the easy jobs. I wanted to be physically involved and do exactly what the guys did, without special treatment. Once I proved I could do it, most of the guys became my friends and brothers."
"...more and more organizations are embracing workplace safety as a company value. And many companies now take pride in their safe work practices and strive for zero incidents on job sites."
But because of her past experience, worker safety was always on her mind. Soon after the incident, she took a job as a safety coordinator for a national construction company. There she discovered that sometimes keeping workers safe could be a battle of wills. She recounts a time when she was trying to get an older, and supposedly wiser, crew member to follow safety regulations. "I was pretty new on this job, and a lead foreman was up on a gang wall, about 15 feet up and he wasn't properly tied off. I tried to explain that I'm simply doing my job and trying to prevent him from falling. But he was older and had a lot more experience, so the dynamic between us was tense. But I didn't back down. I knew that I could stop work and send him home right then and there — and he knew it too. For a while it was a face-off. But finally, he got hooked up and was working safely. He was mad at me. But weeks later at an event we were both at…he thanked me."
After several years with the company, Deb branched out to become a safety consultant, focusing on OSHA compliance, auditing and training — basically acting as a safety professional for several different organizations. She had the opportunity to consult on projects around the world, including Asia, Australia, Canada, as well as many locations across the U.S.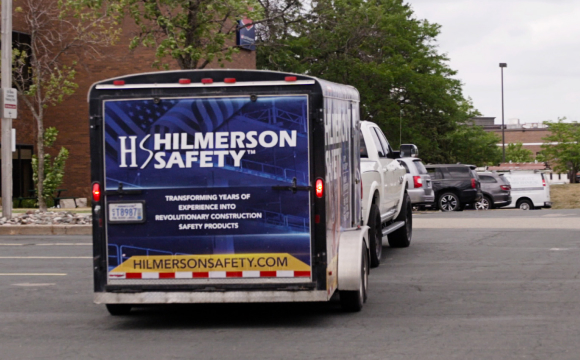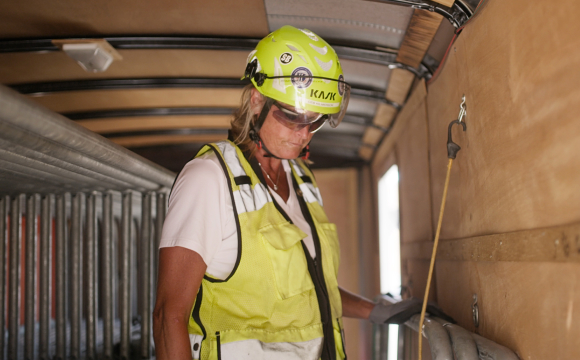 Seeing safety step up, year by year
During her career, Deb has seen the safety industry go through a major transformation. Today many companies are prioritizing safety and they're not accepting injuries and fatalities like they used to. Deb says that on some projects in the past, companies would allocate funds for a certain number of fatalities. "That sounds crazy," she says, "but that was standard thinking then. They would estimate that on a certain job, two or three people were likely to die, because those were the statistics, that's just the way it went. But since then, more and more organizations are leading the way by embracing workplace safety as a company value. And many companies now take pride in their safe work practices and strive for zero incidents on job sites."
There have been lots of other changes too. "More women are joining the trades and holding leadership positions," says Deb. "And there are more avenues and training available to them." And there are changes in technology too. "Everything like review plans and change orders that used to be on paper are now electronic. Plus, now I carry an iPad or smart phone so I can take pictures and send photos if there's a compliance issue."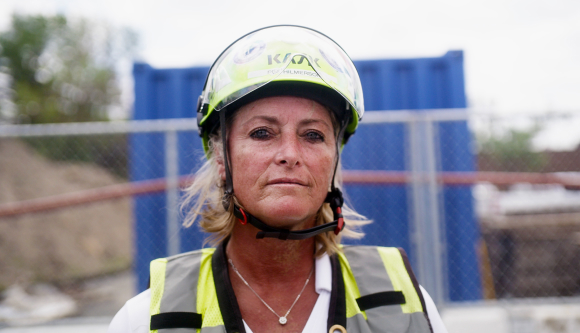 Deb Hilmerson, president and CEO of Hilmerson Safety
Always more to be done.
Despite improvements in today's safety advances, including better pre-planning, project coordination and secondary safety measures, Deb knew there was still more to be done. She decided to leverage her years of experience into creating a business where she could make an even bigger difference in more workers' lives and safety. Because falls remain the leading cause of work-related injuries and workplace fatalities — accounting for more than one in three or 36.4% of fatalities1 — Deb and her team focused on creating better fall protection equipment. She knew building wooden 2x4 guardrails on tall structures could sometimes be installed incorrectly — providing a false sense of security to workers. In response, Deb's company has developed six patented construction safety products used on some of the largest construction sites in the U.S.
Her reusable products solve problems that affect every job site in America. "My philosophy has always been that to be a leader you need to put yourself in other people's boots. And I've definitely been there. The products we've developed for the construction industry are a direct result of having compassion and empathy for trades men and women working in difficult conditions who need simple, practical, and safe solutions — as they work to build the world around us."
Read what he likes most about his job and how all of life's best moments are made possible by safety.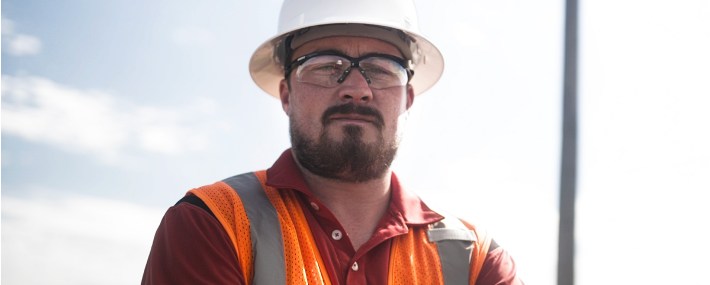 See why she has a passion for introducing the safety profession to young people.