Carina Sowinski:

Making Safety Her North Star.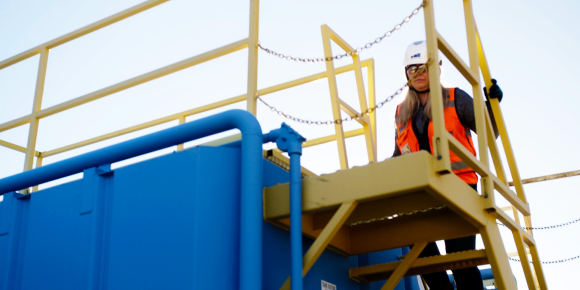 A career with meaning
It's hard not to love a job that positively impacts the well-being and safety of so many people who, in turn, directly work on large-scale projects that touch the lives of thousands of community members. That's exactly how Carina Sowinski sees it. She brings her bright positivity to work every day along with a contagious attitude and enthusiasm. But a career in safety wasn't always on her radar.
For decades, the role of safety manager throughout the trades has been dominated by men. Even today, it's estimated that only about 22% of certified safety professionals are women1. "I didn't learn about the safety profession until I was in high school. Originally, I was thinking about a pretty traditional path, maybe teaching or accounting. I had no idea that a safety profession even existed," she says. "When I was career searching, I found that I was drawn to risk management and occupational health and safety. I liked that these types of jobs still offered an opportunity to teach, but you were really helping co-workers be successful and go home safe to their families. I thought that not only was it a really good profession, but it also had a lot of meaning behind it."
"Why would you want to do that for a living?"
Once she decided on safety as a career, Carina thought her family would be as excited as she was, so she was a little surprised to get responses like "Why would you want to do that? and "Are you sure?" She remembers thinking, how could something so important and impactful get these types of responses?
She believes most people don't have a clear understanding of the wide-ranging aspects of managing workplace health and safety. "People think we focus heavily on personal protective equipment (PPE) and making sure everyone is wearing the correct PPE. It's definitely a part of the job but it's really only a portion," states Carina. "Every day we're planning out high-risk activities, putting teams together, ensuring that individuals have the appropriate training to execute their tasks. We're focusing on engagement and making decisions on how we're going to sequence work to make it happen as safely as possible."
"I'm always interested in bringing new people into the safety profession as well as generating interest among young women to see all the different fields available in construction."
Building landmarks. Removing obstacles. All part of the job.
Carina wasn't swayed off her chosen path. "I just didn't let other people's opinions stop me from doing what I wanted to do." For the last several years, she's been doing her dream job, working on iconic construction projects. She started as a safety intern during the building of Truist Park, the home of the Atlanta Braves, which was completed in 2017. Then she was hired as a full-time employee, working on Fiserv Forum, the Milwaukee Bucks Arena and Allegiant Stadium for the Las Vegas Raiders. "All those were great projects, "she says, "And then I was asked to be part of this awesome opportunity to transfer to California and work in renewable energy. So now I'm working on the world's largest solar energy storage project."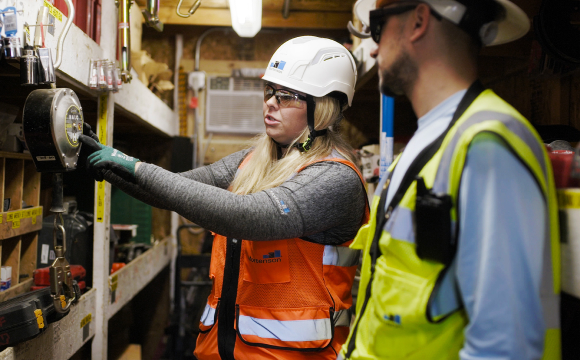 Even when you love your job, there are still obstacles. "There are about 1,000 team members on the job site I'm on right now." reports Carina. "That includes the safety team, craft team members, engineers, superintendents, project managers, and others. And when you have that many individuals, you might have competing priorities at different times in the project." During those times, Carina and her team stay laser-focused on safety and keeping everyone on the same page. "We just make sure we're aligned so we can execute the work safely."
Because Carina wasn't aware of safety as a career when she was young, she wants to change that for the next generation of young women. So, wherever she's worked she takes the opportunity to bring students from the local community onto the jobsite for a first-hand look at the profession. "They can see the different job roles and get excited about the possibilities. I'm always interested in bringing new people into the safety profession as well as generating interest among young women to see all the different fields available in construction." For women considering a career in safety, the National Safety Council's Women's Initiative offers extensive support, resources and educational scholarships to help create more inclusion in safety professions.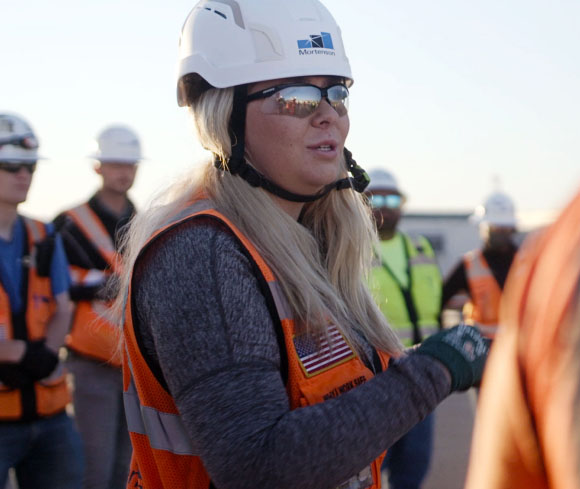 Carina Sowinski, CSP, CHST Senior Safety Manager for Mortenson
Success is about putting people first – every day.
No matter how complicated her work can get and what new challenges each day brings, Carina stays focused on what matters most. "As a safety professional, you're always advocating for individuals and ensuring that their well-being is the highest priority. Today, for example, I'm working with our excavating team to make sure that we have the appropriate budget in place for some upcoming work. This ensures that safety is built into the overall plan, even before a shovel is put in the ground." She adds, "I appreciate the opportunity my position has to influence operations and business decisions, which makes the safety profession extremely rewarding, and overall, extremely important to any organization."
Read what he likes most about his job and how all of life's best moments are made possible by safety.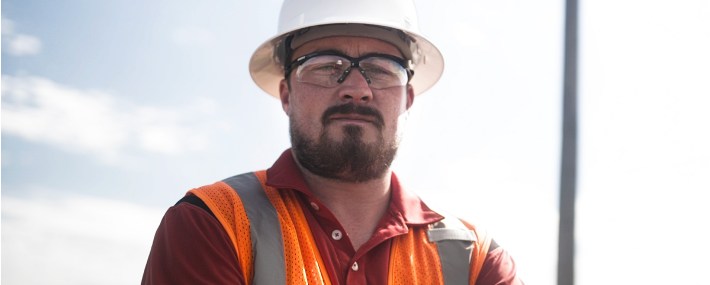 Learn what inspired her to devote 20+ years to the safety profession and ultimately start her own safety business.